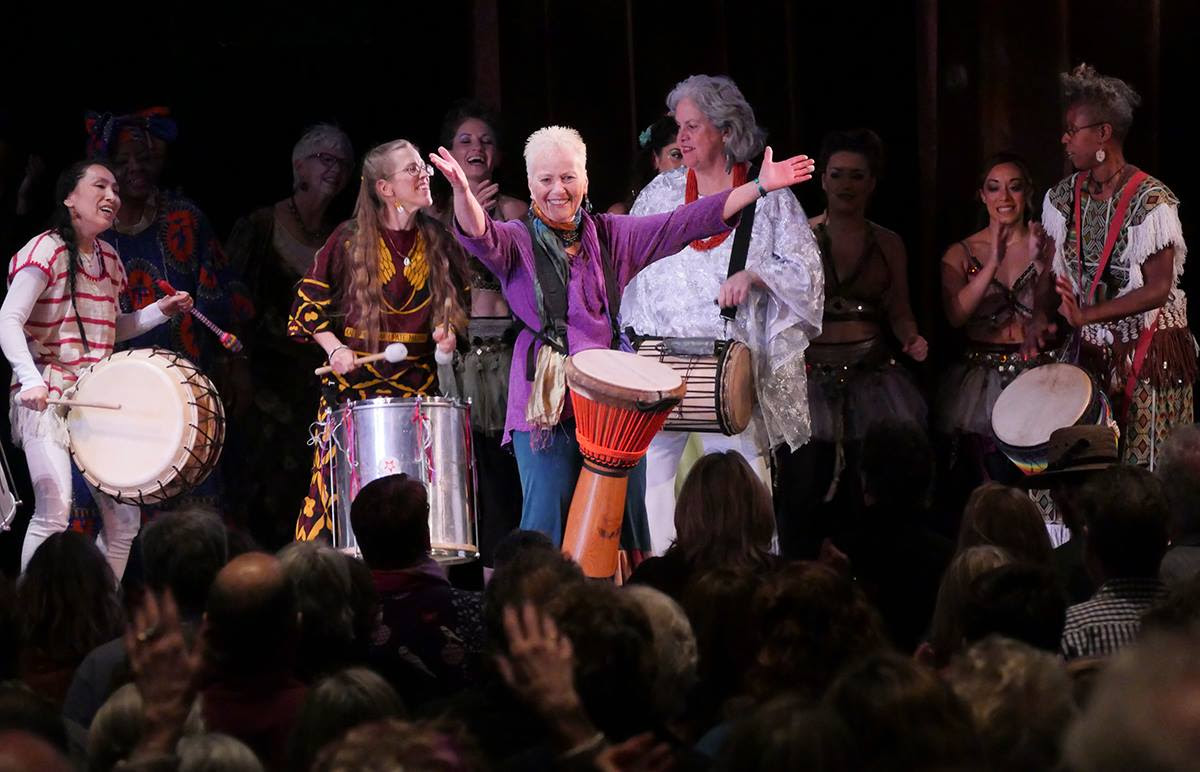 Photo – Irene Young
Hot drummers left to right: Dohee Lee, Larissa Montfort, BB, Carolyn Brandy, Afia Walking Tree
---
TWO SPECIAL EVENTS OCTOBER 20
AT THE
OCCIDENTAL CENTER FOR THE ARTS 
Have some big fun… drum, chant, dance (any or all) by day,
enjoy dinner in the charming town of Occidental in the late afternoon
and, in the evening, see the participants from the day-long event present drumsongs
learned that day followed by a free screening of the acclaimed documentary,
Keeper of the Beat: A Woman's Journey Into the Heart of Drumming. 
Closing the evening will be a Q & A with Barbara and more drumming.
Registration Information in the Flyer Below
Questions? Click Here
Daytime Workshop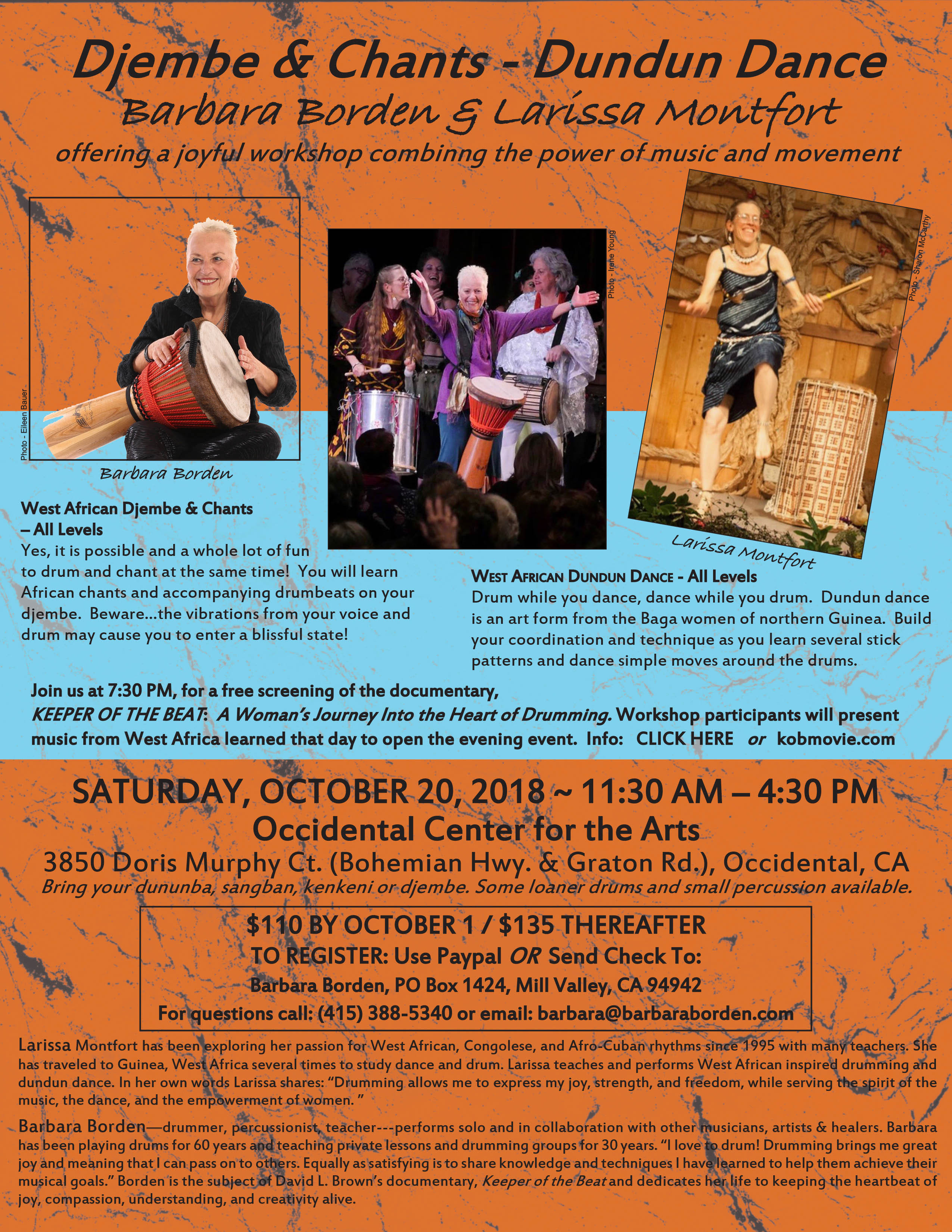 Between events take a short walk to dine in Occidental, famous for its many fine eateries.
Then return to enjoy the evening screening of…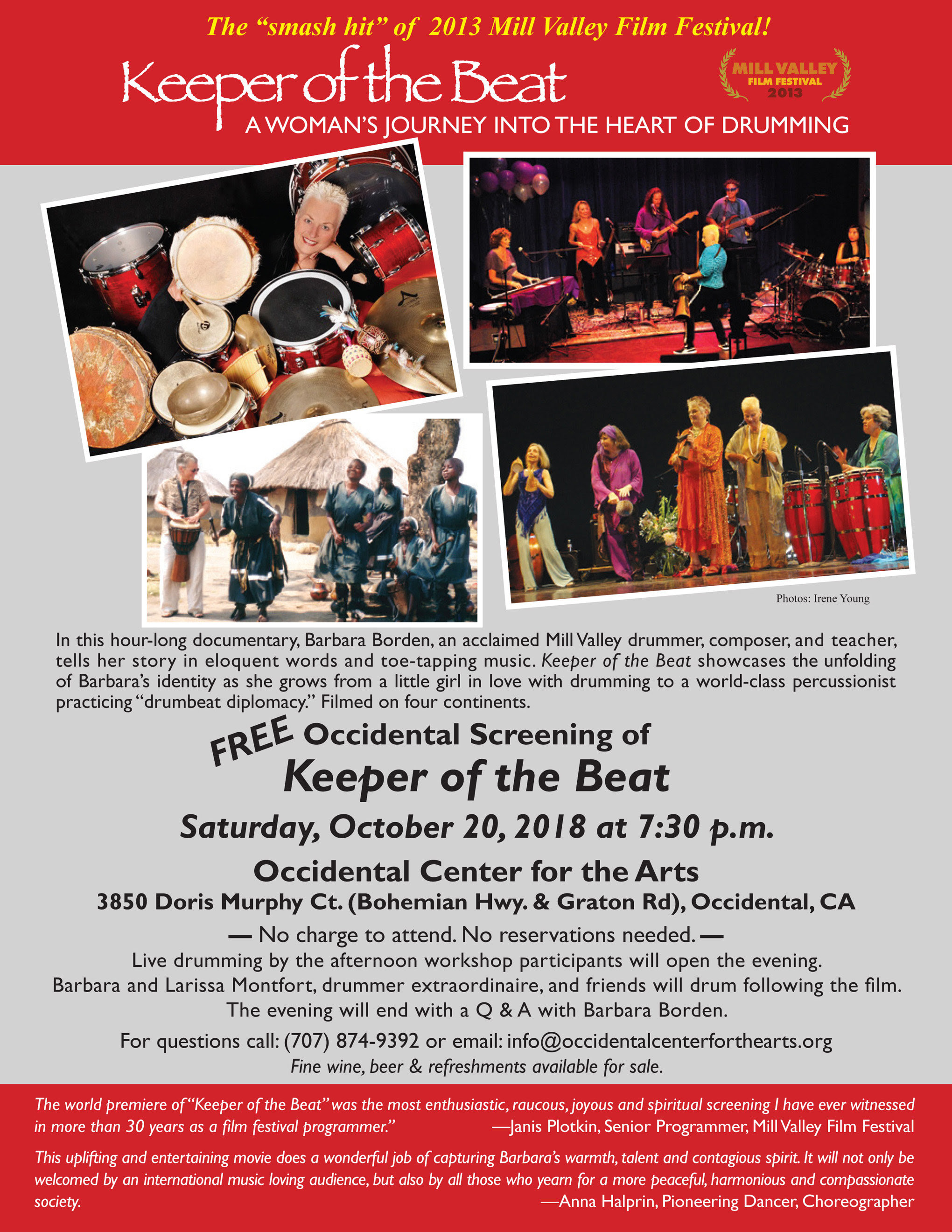 No charge to attend.  No reservations needed.
---
COME DRUM WITH BARBARA!
EXPERIENCE WHAT IT FEELS LIKE TO BE AN ARCHITECT OF ENERGY…
Giving birth to the beauty inside every beat,
Inside every moment…ooh what a treat
To be permanently plugged into the heartbeat,
The great heartbeat of life!
Together we will…
Drum, Intone and Embody the
Sounds, Vibrations and Rhythms
That Are Music!
———————————————————— 
Beginning Drumming Series Starts September 12
Registration Open Through September 26
For information and registration: CLICK HERE  
This group is for women only who are brand new beginners or would like a refresher.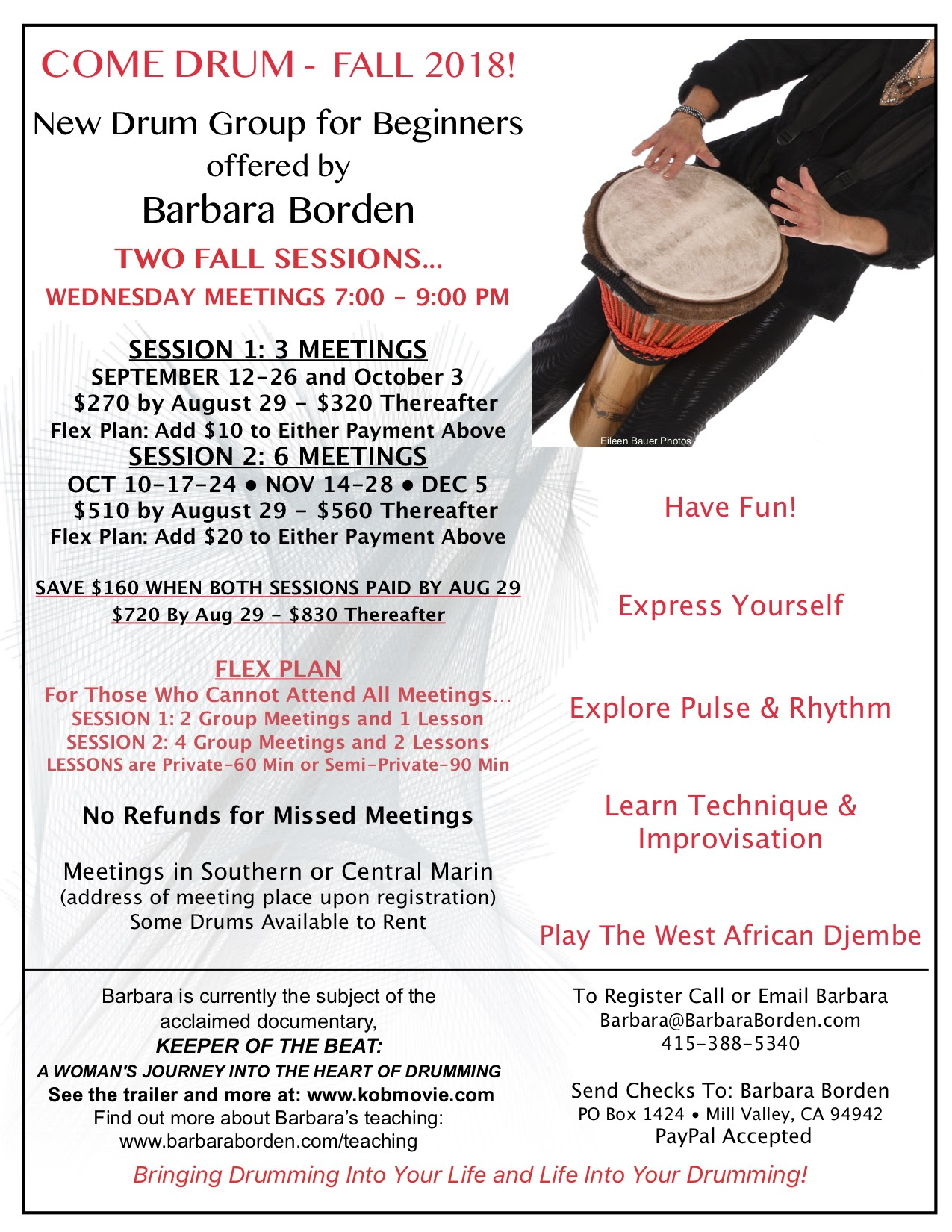 ———————————————————– 
Intermediate Fall Series – Begins September 11
REGISTRATION IS OPEN THROUGH OCTOBER 9 
For drummers who have: played long enough to know how to get the 3 main sounds from the djembe; can play West African rhythms; and are comfortable jamming.
If you have not studied with Barbara, you will need a 30-minute consultation.
click here
If you have studied with Barbara before, see registration information in the flyer below or
click here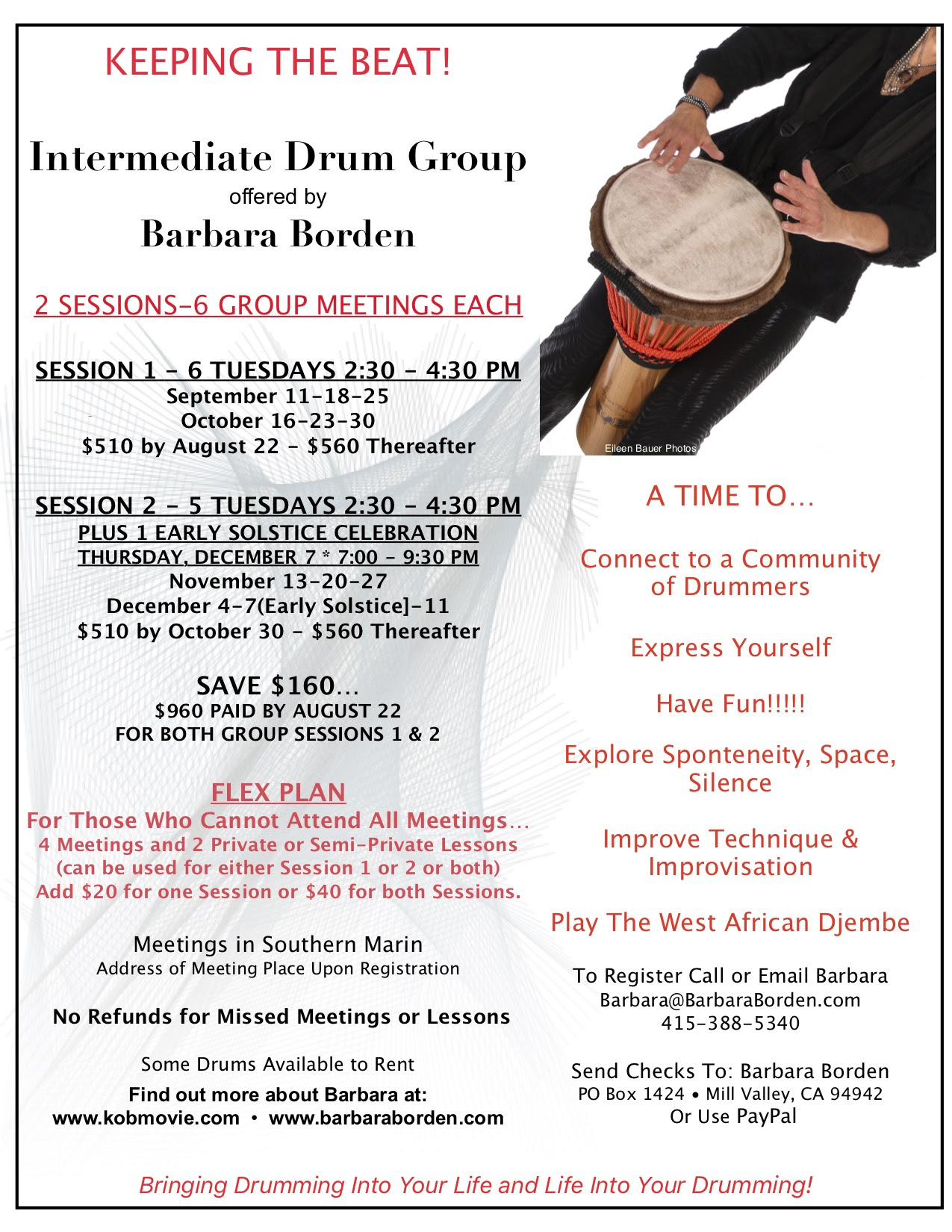 ---
HOLD THE DATE FOR THIS SPECIAL EVENT IN 2019
Saturday, January 6     10 AM – 4 PM
Jennifer Berezan  & Barbara Borden
A Transformative Day of Drumming and Chanting
Spend the day diving into the heart of chanting and drumming…
exploring your own heart with sound ways to experience the
joys and sorrows of what it means to be fully alive.
at
Sacred Stream, 2149 Byron St., Berkeley
More information coming soon!
Questions? Click Here
---
INTRODUCING A NEW PROJECT…
Our first public performance was on 9-15-18 at Spiritrock Meditation Center's
LOVING THE EARTH: Healing the Planet Through Mindful Engagement.
For the Livestream of this day-long event with many inspiring guests… Click Here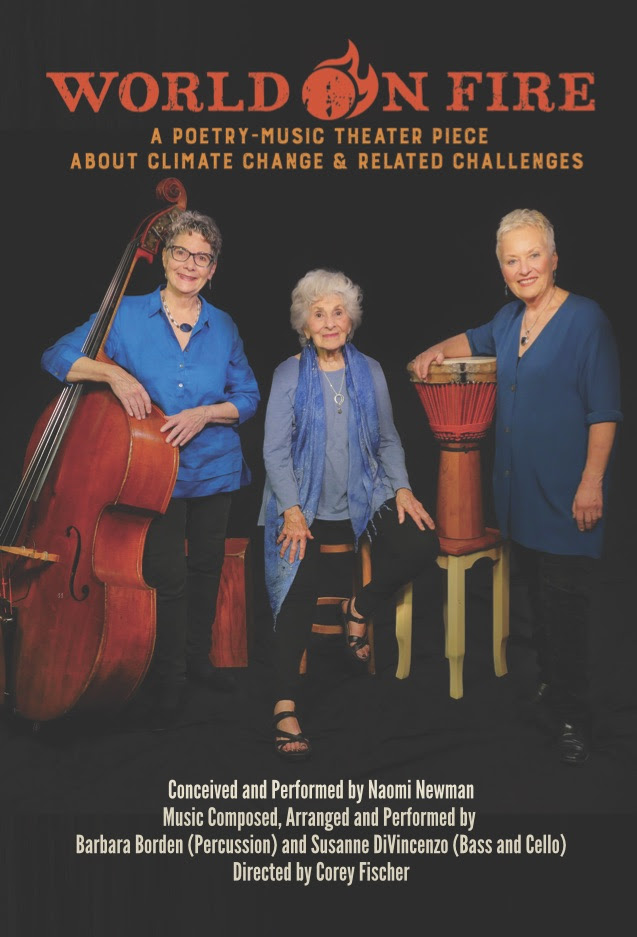 To Visit Our Website Click Here