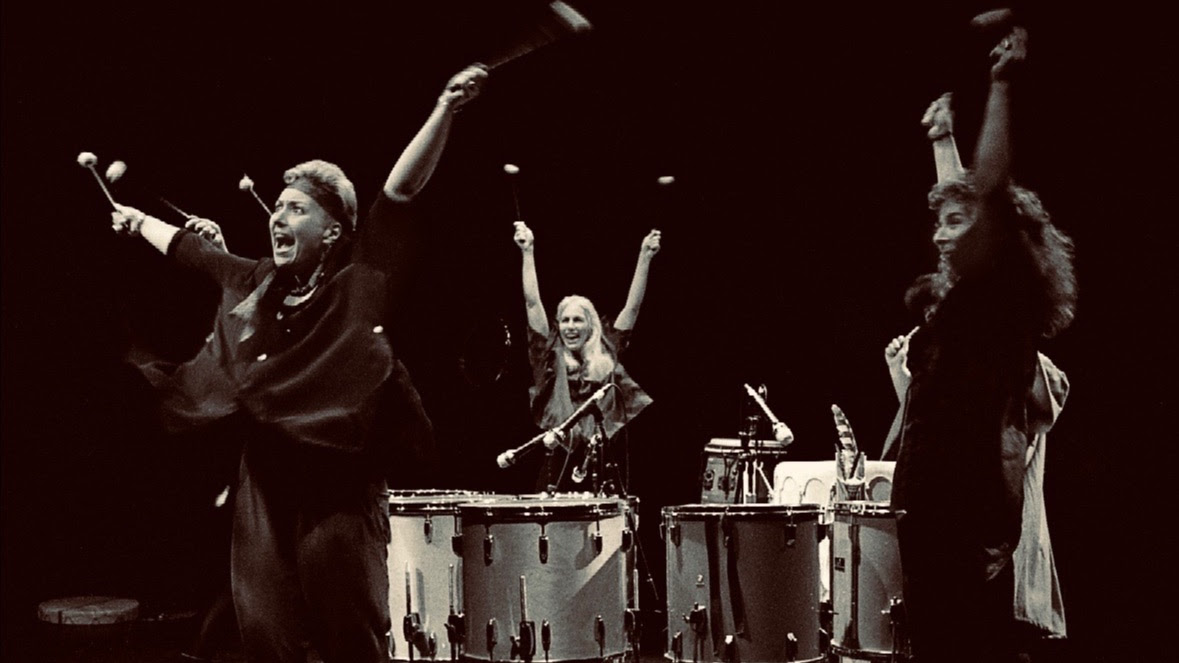 EXCITING & FUN EVENTS — FALL 2019
Drumming
Participatory Events
Workshops & Collaborations
(click on any of the categories above that you'd like to explore)
---
NEW — BREATH & BEAT – 6 SUNDAYS — 4 – 6 PM 
STARTING OCTOBER 6
For those who…
want to have the unusual experience of being vibrated from the inside by your voice and
from the outside by drums, Breath & Beat is for you!
Each meeting is an opportunity to return to the land of your soul through Music.
All levels of drumming and voice are welcome.
See flyer below…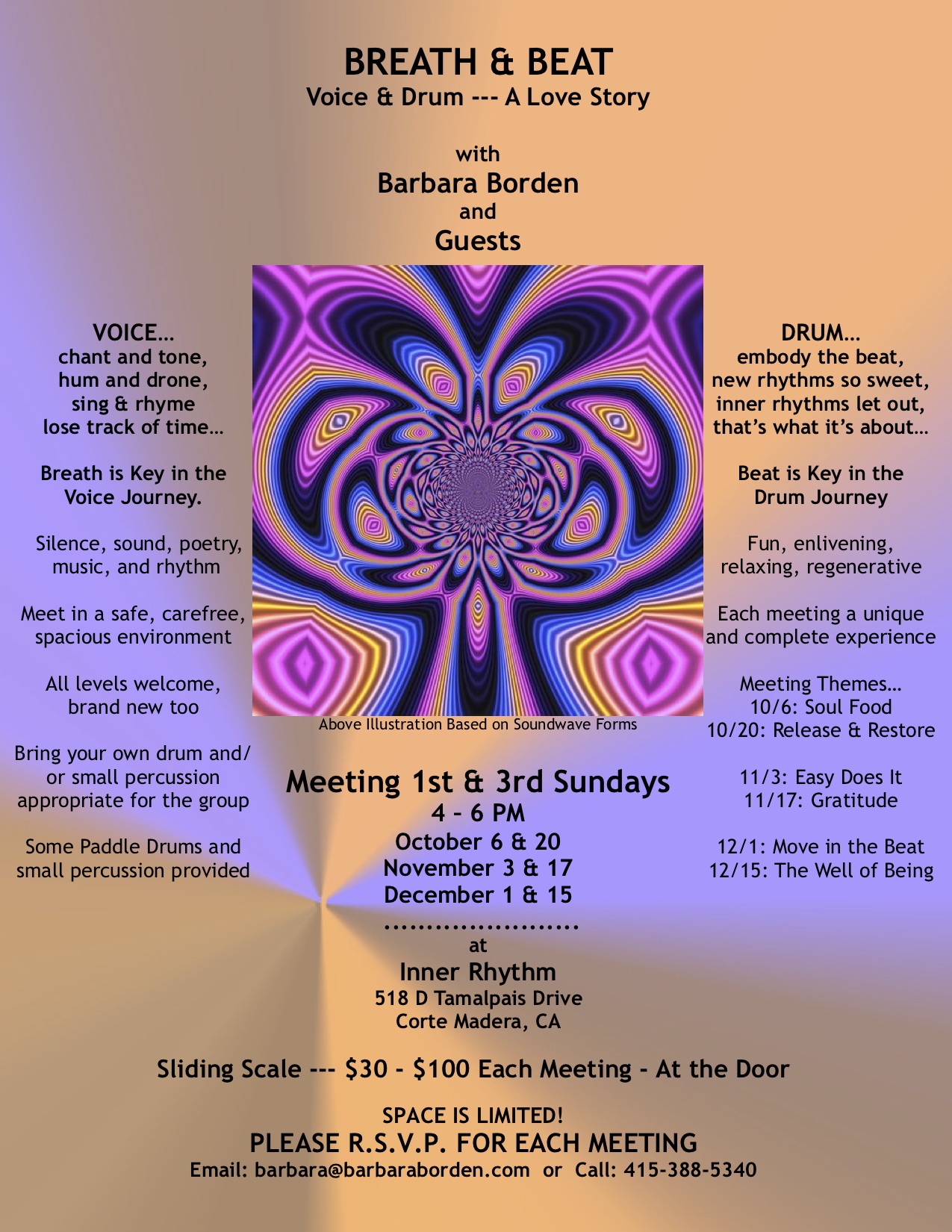 Or CLICK HERE for more info.
---
FALL DRUM GROUPS
Bring Drumming to Your Life and Life to Your Drumming!
Drumming is a great way to feel revitalized and transformed by the
good vibrations of the drums and group energy.
At the same time, music provides a safe harbor in which to drop anchor
during these tumultuous and challenging times.
"Today when I am stuck in my head, I remember that music can make me free."
— Gerald G. Jampolsky, M.D.
———————————————————–
FALL SCHEDULE – DRUM GROUPS
New Beginning Level 1 Djembe Drum Group
For those who…
Have Always Wanted to Play Drums
and/or
Need a Refresher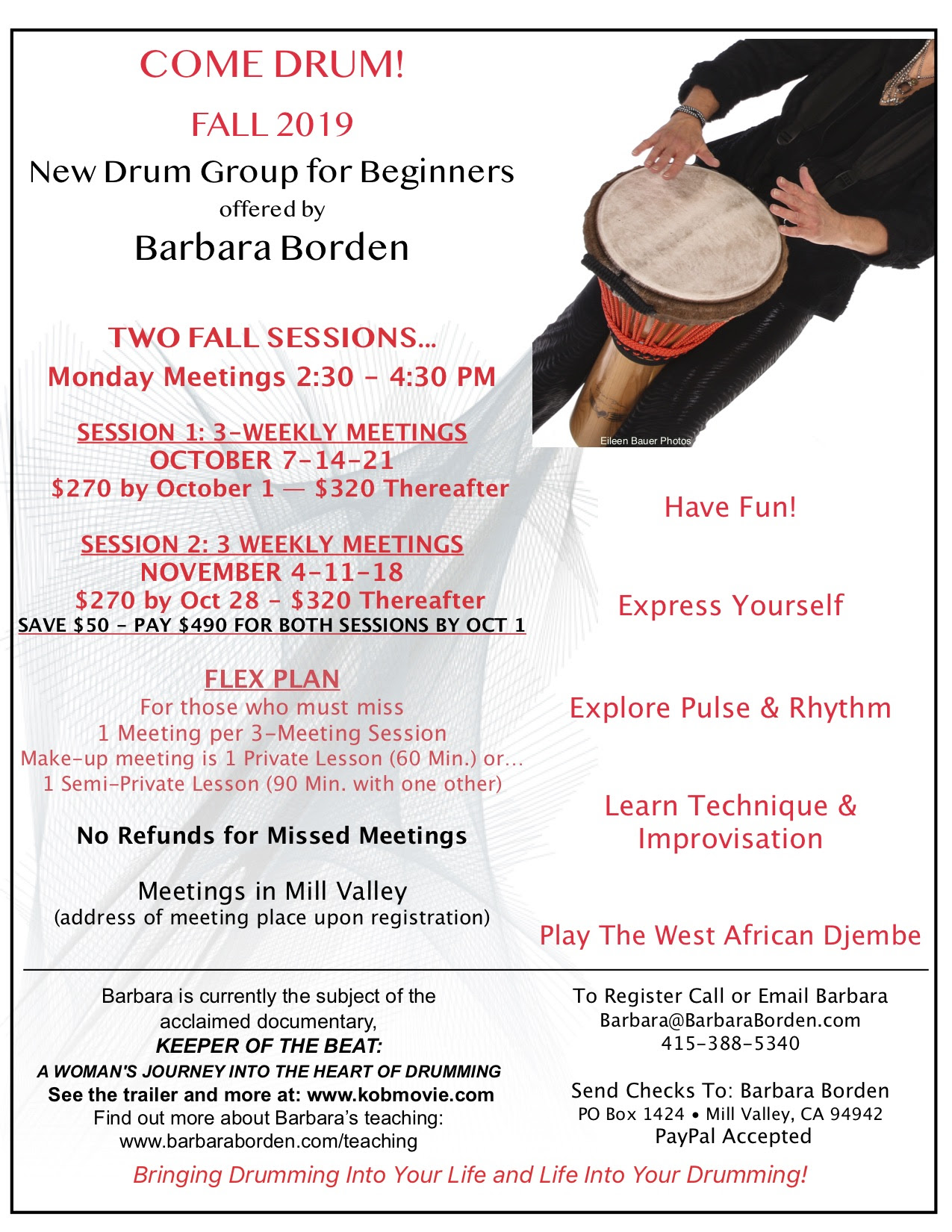 FOR QUESTIONS & TO REGISTER
for the new Beginning Group above… 
CLICK HERE 
——————————————————— 
Ongoing Djembe Drum Groups
Started September 10 – Ending December 13
Some space still available.
These groups are for those who want to infuse drumming into their lives because they love it and want to continue to hone their skills and/or have a drumming practice. The material we explore includes techniques, improvisation, rhythms and drum songs (many adapted African songs as well as those from other countries and styles), and collaborative group compositions. Making time to engage in playing the drum between group meetings is an important part of these sessions for the individual and group growth process.
A bonus to the above format is being part of this ongoing drumming community of like-minded people who co-mingle in various ways and meet twice a year when all the groups (including the most advancing performance group (which isn't listed here) have a chance to play together.
If you have not drummed in Barbara's groups before, you are requested to have a consultation with Barbara to help her determine if you are in the right place to fulfill your drumming dreams.
FOR YOUR 30-MIN CONSULTATION APPOINTMENT WITH BARBARA ($50)
IN PERSON OR ZOOM ONLINE
———————————————————– 
 Movers & Shakers New Beat
Ongoing Level 3 Drumming Group 
(this group is transitioning to the intermediate level)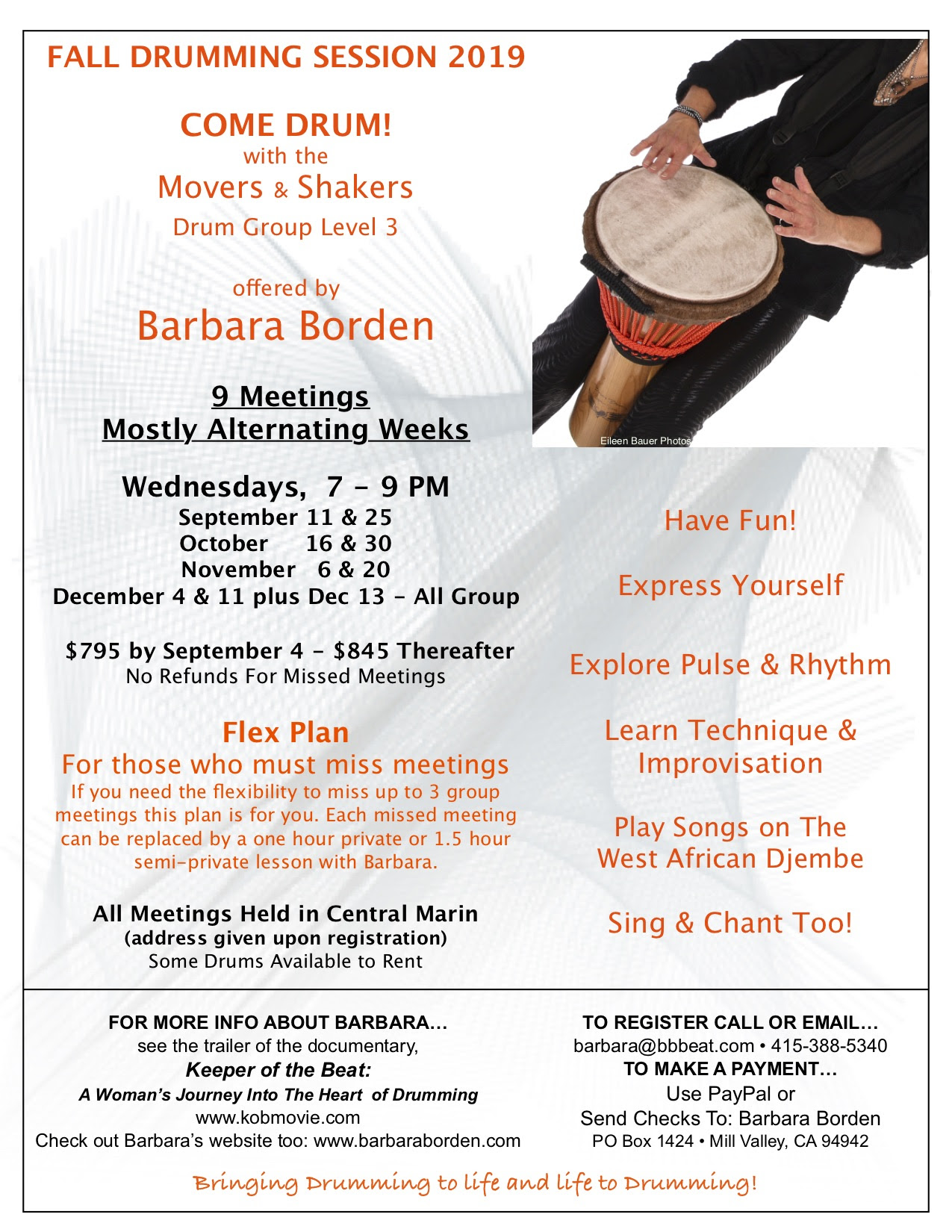 Funtastik Drum Group
Ongoing Level 5 Drumming Group
(this group is intermediate at a more experienced level)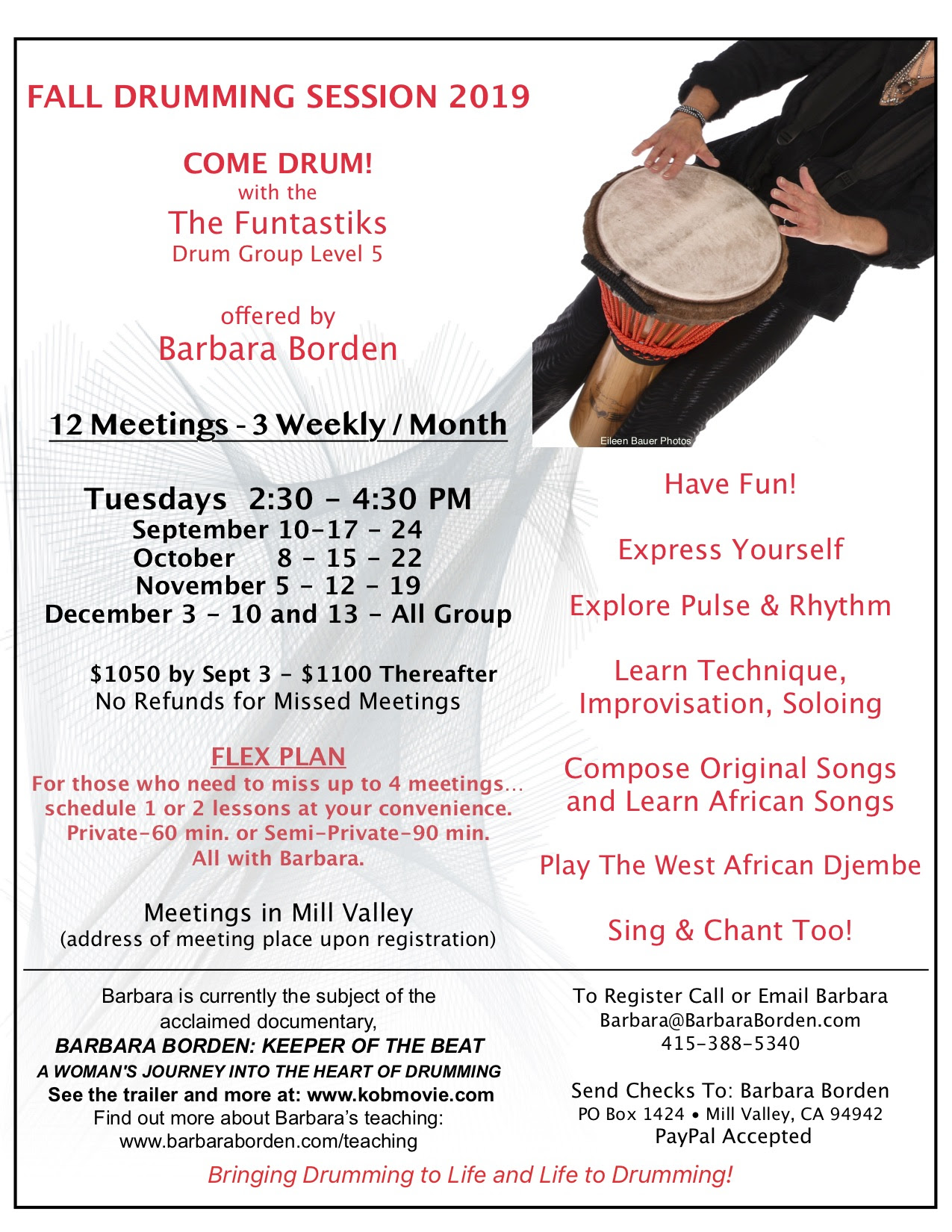 Since the 2 groups above have already begun, you can get early registration savings and
a pro-rated fee by mentioning "Fall Mail Chimp."
Contact Barbara with questions HERE