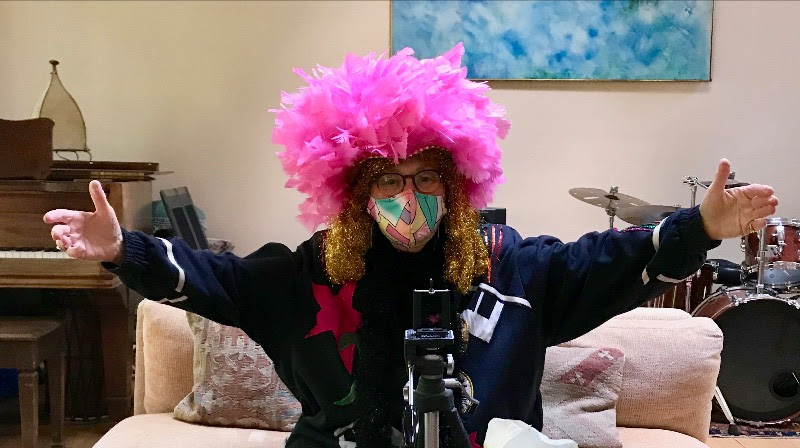 Photo by Naomi Newman  •  Tinsel Hair and Pink Feathers Arrived Magically!
Barbara's Mask Available at Rebecca Designs
---
Dear Friends Near and Far…I am hoping you are healthy and drumming-singing-dancing and/or doing whatever it takes for you to keep your spirit and immune system thriving at this particular moment in history. As Rumi says…
"Let the beauty we love be what we do.
There are hundreds of ways to kneel and kiss the ground."
My heart goes out to those directly or indirectly affected by the Coronavirus…and to everyone suffering in any way. This pandemic has made it exceedingly clear how interconnected we are. I am finding that sheltering at our home sanctuary has made me realize how much I enjoy being home most of the time, being somewhat of a hermit, and assuming a slower, calmer, deeper way of being that feels much more aligned with what I need at this time in my life.
Finding love where love appears not to be and sharing acts of loving-kindness have also contributed to keeping my spirits high and my soul fed…along with laughter and silliness, as you can see in the photo above! As many of you know, what has kept me most happy, creative, and enlivened all my life is the miraculous world of music…drumming, rhythm, singing…and dance. Let's zoom around in the joy of music as much as we can together!
I hope to see you and/or feel you in our upcoming Zoom times.
Below are some opportunities to join in the flat-screen-fun!
Love, your ever-faithful boomer-zoomer, Barbara
---
Three Upcoming Zoom Events With Barbara
May – June – July 2020
---
Sunday, May 31 @ 5:00 – 6:30 PM
Raise your spirits and some money too 


for Mill Valley's O'Hanlon Center for the Arts.
Be inspired by a group of multi-media artists to…


EXPRESS YOURSELF! 


A Salon presented by
MURPHY PRODUCTIONS

 
For Information & Tickets
($5 – $10 – $20 per household) 
CLICK HERE
To get the Zoom App:
CLICK HERE
---
June 14 – (time to be announced)

Special Online Event From
The Ontario Womyn's Drum Camp
You are invited to join with camp facilitators online who will be
sharing their drum & rhythm medicine with you.
To stay in touch for more details coming soon…
CLICK HERE
---
Hold the Dates: July 11 or 12
Celebrate Anna Halprin's 40th Annual
PLANETARY DANCE ON ZOOM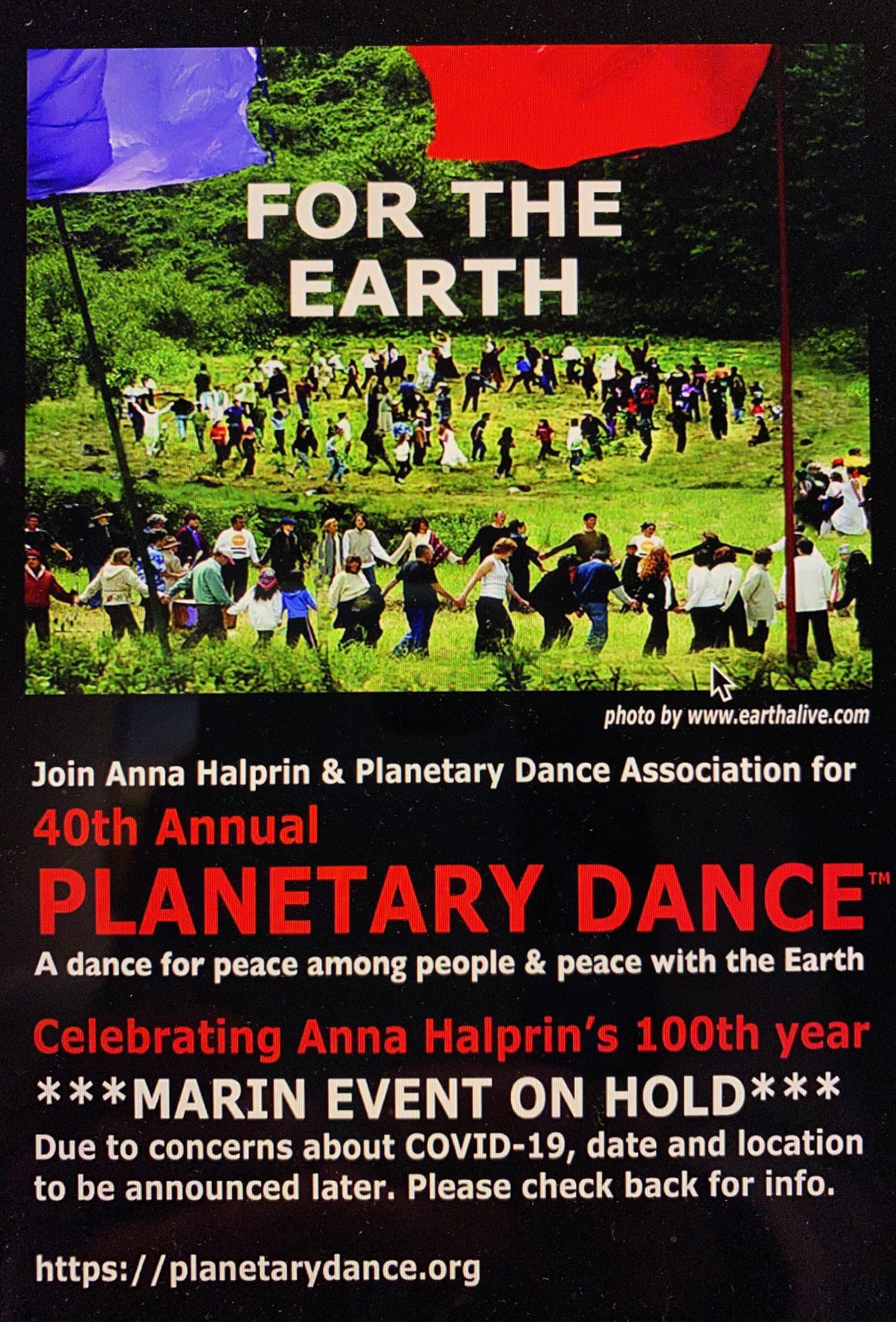 Click on flyer above for more information.
---
DRUMMING SESSIONS ONLINE 
More Information Coming Soon About…
 BEGINNING DRUMMING
(I've Always Wanted to Play Drums)
DRUM SESSIONS
(intermediate & advanced drummers)
TAP HAPPY
Embodying Rhythm
(body and found instruments)
THE DRUMMING PATH
(a lifetime practice)
RHYTHMS,  MANTRAS & SILENCE
(to nourish the body, mind and soul)

Drumming in Love with the Beat,