BARBARA BORDEN SIGNATURE SERIES DJEMBES
If you are ready to purchase a new drum that has a magnificent sound, is light-weight with clean lines, is manufactured by two outstanding craftsmen in the U.S. that are working with sustainable products – if all this is what you want – then the Barbara Borden Signature Series Djembe is for you!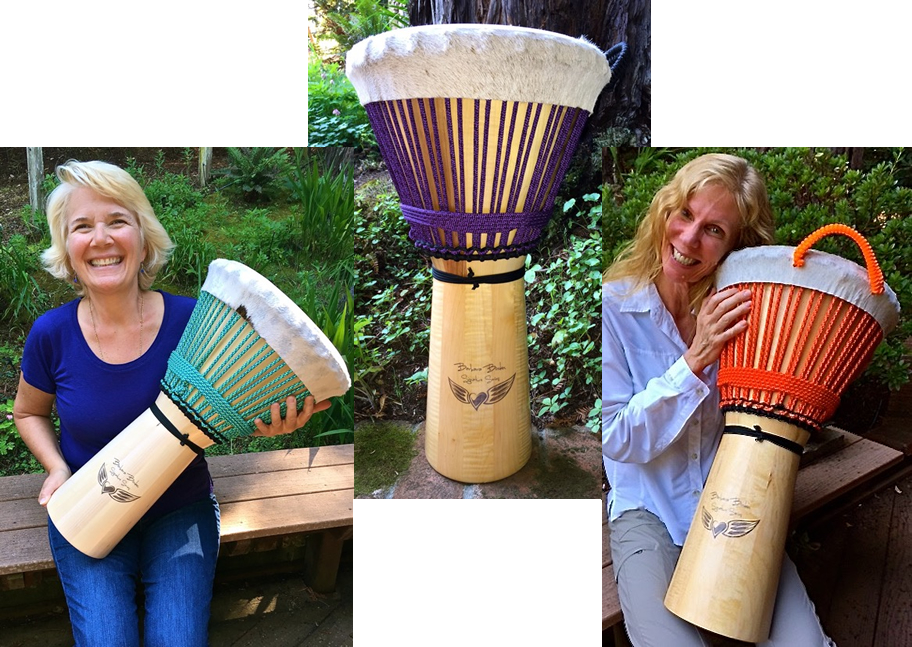 If you are thinking of this drum as a gift, it is certainly one that keeps on giving!
See below for photos and everything you'll need to know about how to purchase your new drum. Order by August 31 to receive your custom drum for delivery November – December, 2016.
HAPPY OWNERS OF THE BBSS DJEMBES
AND WHAT THEY ARE SAYING…
"It's so light! What a great sound. Love that bass! Sweet.
What a difference it makes to play a fine instrument. I'm so happy to have this drum!"
THE DRUMS AND DRUM MAKERS
EVERYTHING YOU NEED TO KNOW ABOUT PURCHASING A
BARBARA BORDEN SIGNATURE SERIES DJEMBE
Thank you for considering purchasing a…
BARBARA BORDEN SIGNATURE SERIES DJEMBE
A Great Sounding, Elegant, High Quality, Light Weight Drum
Made by Two U.S. Craftsman Par Excellence.
To date we have had a 100% "LOVE MY NEW DRUM" rating!
AVAILABILITY
Drums are available twice a year – May-June delivery and November-December delivery.
Orders are gathered throughout the year with these delivery times in mind.
DRUM PRICES, SHIPPING & PAYMENT
Bass Wood (lightest)        Check or Cash –   $450.28       PayPal – $462.80
Maple Wood (heavier)     Check or Cash –   $477.40       PayPal – $491.73
All drums must be paid for in full upon placing your order since these are custom made drums. Check, cash (in person) and PayPal are accepted (additional PayPal fees of $12.52 for Bass Wood/$14.33 for Maple Wood have been added to PayPal prices above).
All prices include California Sales Tax.
Drums can be shipped anywhere in the U.S. and some foreign countries for an additional
shipping and handling fee (approx. $20 – $65 in the U.S. depending on your location).
To Order Your Drum, email: BB@BarbaraBorden.com. Include your shipping address with your drum order. You will receive a separate bill for shipping and handling from Drumskull Drums. Bay Area residents can pick up drums in Mill Valley, CA to save shipping fees.
WEIGHT & DIMENSIONS
WEIGHT (approximate): Bass Wood – 8 pounds Maple Wood – 10 Pounds
DIMENSIONS (Bass & Maple): Drumhead Diameter: 13" Drum Height: 24"
DESCRIPTION & SOUND OF DRUMS
There are two types of wood used for the drum shells. Basswood is a lighter weight wood and lighter in color. The maple drums are a little darker with more golden hues than the basswood and 1-2 pounds heavier. The grains of each are also a little different (see photos below). All shells have a clear protective finish.
The sound of the maple drum (harder, heavier wood) is rich and resonant with well defined high and low tones. The basswood (softer, lighter wood) has a vibrant, clear sound…also with a defined low bass and high-end pop.
You can choose the color rope you like for either drum from a large selection at the DrumSkull Drums website (please choose a second color in case the first is out of stock)…
http://www.drumskulldrums.com/en2/22/Shop_Drumskull.php?ProdID=699
The drumheads are made of the finest hand picked goatskin from Africa.
All drums have the Barbara Borden Signature Series logo on the outside (photos below). They are also signed by the drum makers with the logo of each company on the inside of the drum.
WARRANTY & RETURN POLICY:
There is a 30-day warranty on workmanship defects from DrumSkull Drums for the drumhead and rope.
Everyone's Drumming has a 2-year workmanship defects warranty for the wooden shells. If the drum is damaged by its owner after it has been purchased, there will be a repair fee to be determined by Everyone's Drumming and/or DrumSkull Drums. All shipping costs must be paid by the owner of the drum.
If for some reason you don't love your drum and it is returned in pristine condition within 10 days of receiving it, we will swap it for a similar drum when possible or refund the full amount of the purchase price. All shipping costs must be paid by the owner of the drum.
ABOUT THE DRUM MAKERS:
The Barbara Borden Signature Series Djembe is a custom made drum by two U.S. drum makers that are craftsmen of the finest caliber…Matt Hardwick, owner of DrumSkull Drums in Santa Cruz, CA, and Nathaniel Hall, owner of Everyone's Drumming in Putney, VT.
I chose Nathaniel for his fine craftsmanship in making lightweight drum shells (the wooden
part). The wood he uses is locally grown and harvested sustainably.
http://www.everyonesdrumming.com
Matt Hardwick of DrumSkull Drums then crowns these shells with the highest quality goatskin drumheads from an African farm he has visited where the goats are treated well. The rope used is strong with many colors to choose from. He then finely tunes each djembe to perfection.
http://www.drumskulldrums.com
The drum with purple rope is maple…turquoise rope is basswood.
Please feel free to email or call Barbara with questions:
BB@BarbaraBorden.com             (415-388-5340)