KEEPER OF THE BEAT DOCUMENTARY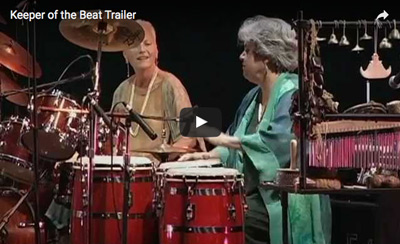 Keeper of the Beat is a feature-length biographical documentary-in-progress about the life and music of Barbara Borden, an extraordinary 66-year-old drummer, composer, teacher and peacemaker. It is produced and directed by Emmy Award-winning filmmaker, David L. Brown and follows Barbara's journey from a pot-banging child of poor immigrant parents to a master percussionist and Ambassador of Peace.
The film tells the fascinating story of a woman and her love of drumming and music. Through her belief in their transformative power, she has developed the courage to become her unique self and to carry her passion for 'keeping the beat' into widening circles of communities throughout the world.

"I knew Barbara was a great drummer who had drawn from all the great drummers in the jazz tradition like Art Blakey and Max Roach, and that she could play anything on the drums, whether it's a trap set or hand drums. But I hadn't seen her put together a real rock and roll band with electric guitar, keyboards and electric bass. It surpassed what I had imagined when I heard she was planning to play rock and roll. I was blown away by this band, the bass playing, the guitar solos and the fact that everyone could sing – it was beautiful.  That version of 'Sing Sing Sing' with the drum solo and Lotus joining her was fantastic!  The show was a wonderful survey of music that literally embodied a life in rock and roll. It was thrilling! "
~ Derk Richardson, Music Critic, Host on KPFA
"Keeper of the Beat is exquisite on every level.  Barbara's talent and joy swept me up in a wonderful musical experience that  lifted my spirits sky-high."
~ Christopher Beaver, Emmy Award-winning filmmaker."
"This uplifting and entertaining movie does a wonderful job of capturing Barbara's warmth, talent and contagious spirit.  It will not only be welcomed by an international music-loving audience, but also by all those who yearn for a more peaceful, harmonious and compassionate society." 
~ Anna Halprin, Pioneering Dancer, Choreographer
"What a triumph!!! Keeper of the Beat is so joyous and moving….I loved the music and the personal and cultural history woven throughout. And the beauty of your journey…your own being shining forth with so much clarity and joy. And to see how your work continues to move out into the world, touching so many people with healing and inspiring new generations of girls to drum!"
~ Jennifer Berezan, Singer/Songwriter